We just released some major improvements to deals, which give you more power to automate, organize and track your transactions and commissions right inside Follow Up Boss. Here's the full rundown:
Deal commissions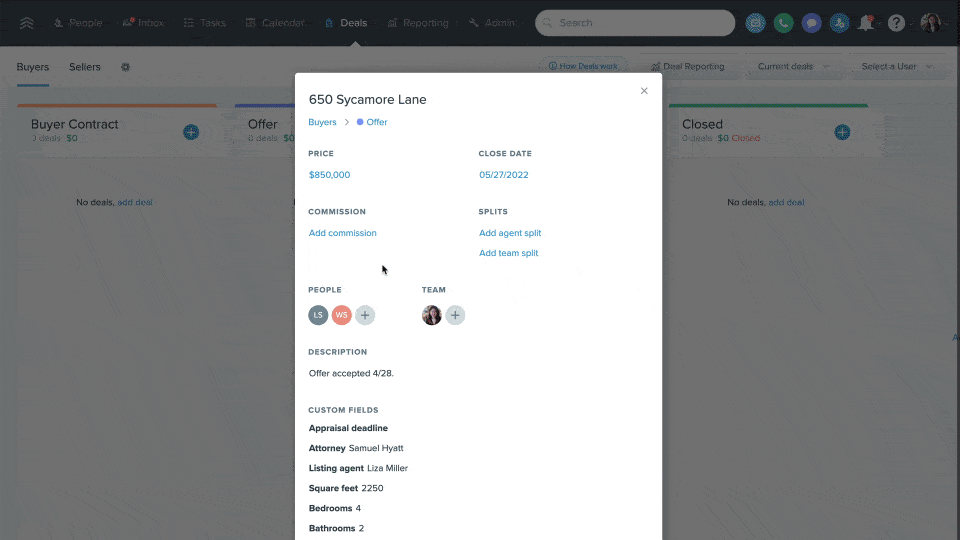 Before this update, you could manage your deals and their price points in Follow Up Boss, but we didn't have an option to calculate or track deal commissions.
With this update, you'll see a new commission field for each deal, which you can use to track what you're bringing home after closing. You can input either a commission dollar amount, or you can use the handy commission calculator to input a percentage amount (calculated based on the deal's price).
Deal commission splits
You'll also notice a couple new fields for commission splits – one for agent splits and another for team splits. If you're splitting or dividing a deal's commission between an agent and your team, these two fields just made tracking that a lot easier.
With splits, you can input either a dollar amount or or use the splits calculator to input a percentage amount (calculated based on the commission value).
Commission and splits reporting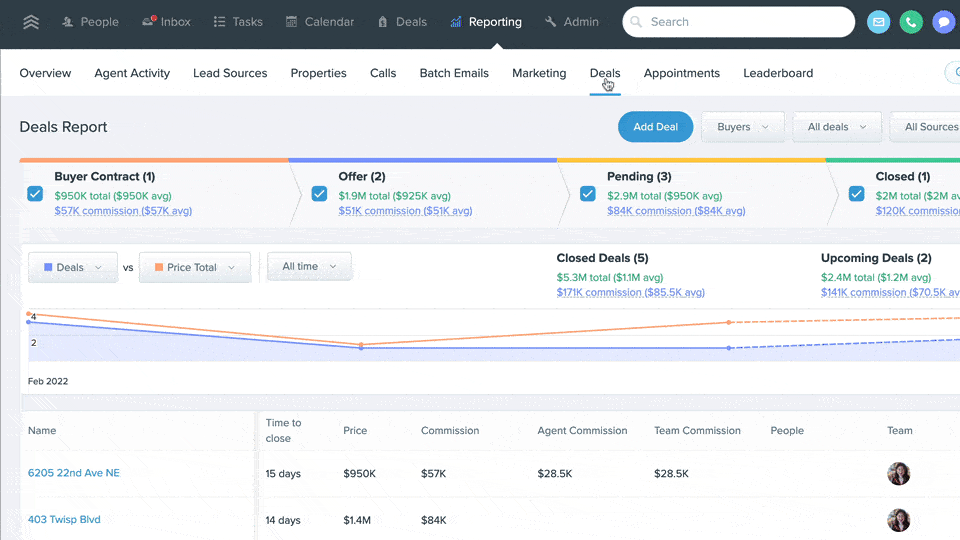 And of course, what good is inputting commissions and splits if you can't get a real-time snapshot or see a high-level view of how your team is doing over time?
So for account owner and admin users, now you'll see commission and splits values in the deals report. You'll see a snapshot view in the deal report's header and you'll see more details in the report's graph and table.
In the table you'll see agent and team commission columns, which you can sort and filter like the other columns.
We have future improvements planned for more advanced deal filtering on the People page, so soon you'll be able to filter and sort people and create smart lists based on all this data. Scroll down to the bottom of this post for a sneak peek on that, including how you can upvote that feature to help our team prioritize it.
Deal custom fields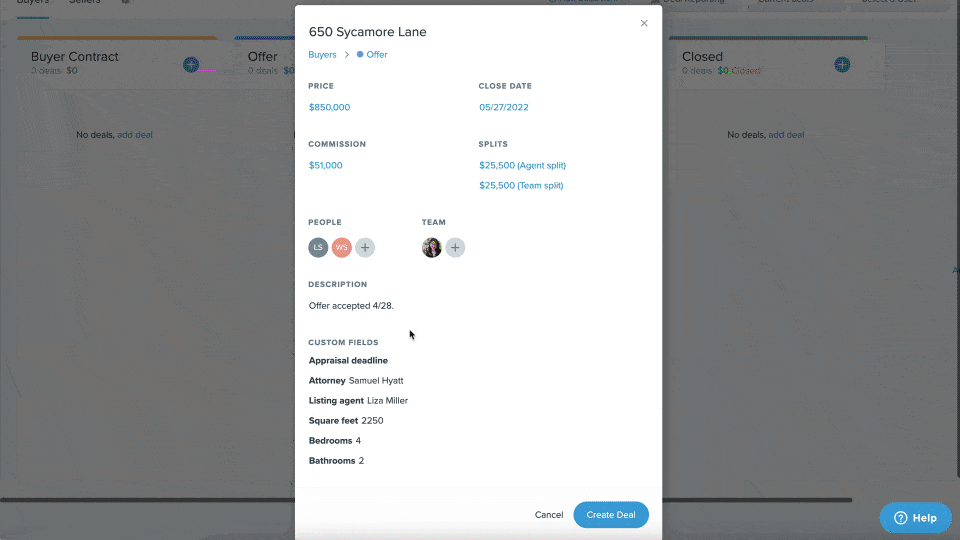 Want to track even more data related to each deal? Maybe you want to track a deal's appraisal deadline date or keep track of the listing agent or attorney's name who is involved in the deal. Now account owners can add deal custom fields for that.
Deal custom date fields (like the appraisal deadline date example above) display on your Follow Up Boss calendar and you can also trigger automations based on them.
Trigger automations based on deal custom date fields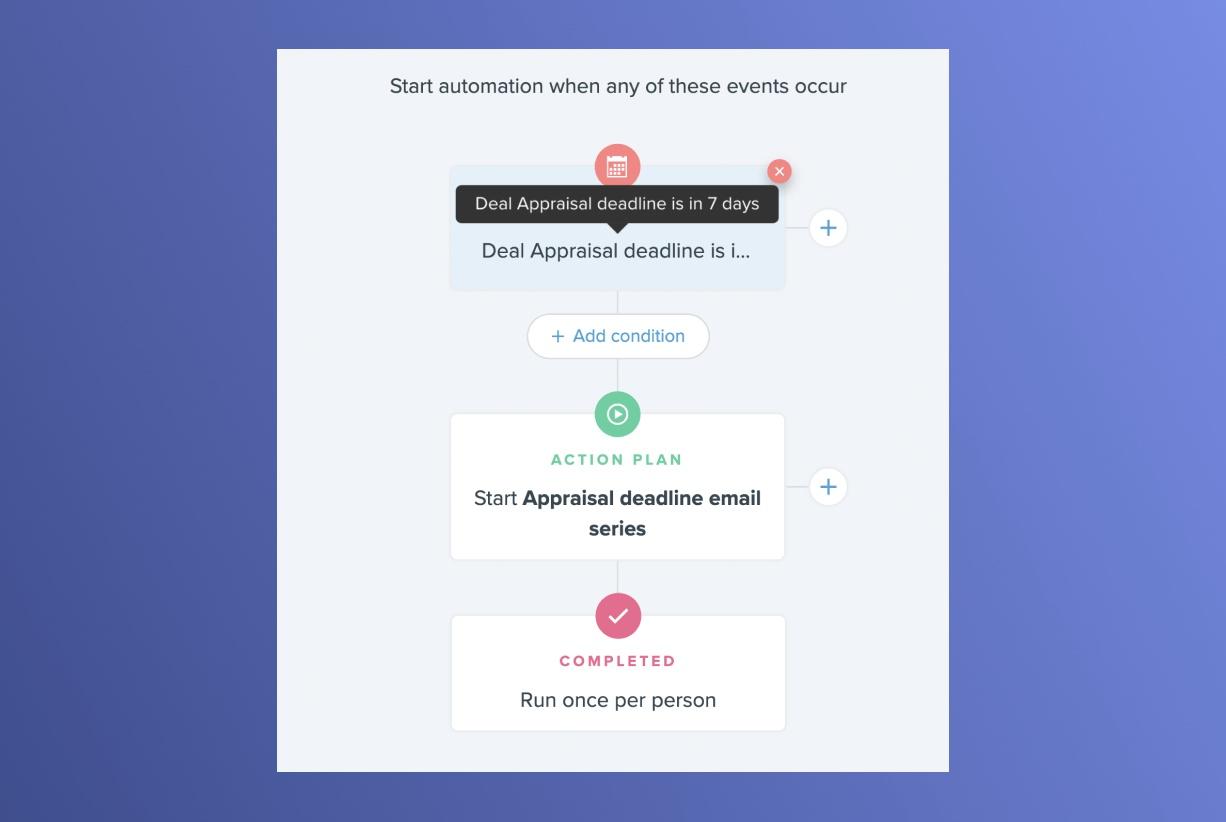 Let's say you want an action plan to automatically start on a client one week before their appraisal deadline – for example, an action plan that emails a series of deadline reminders to your client.
With the new custom date field automation trigger, now account owners and admins can create an automation for that. This lets you spend less time and energy manually tracking dates or sending emails, and lets you focus more on closing deals.
For more details on how deal custom fields work and how to trigger automations based on date fields, check out our guide here.
Updated deals API documentation
We know some of our customers use third-party tools or spreadsheets to manage their transactions at a high level, so we made this new deal commission and deal custom fields data accessible through our open API. You can find more documentation on that here.
Using these new deal features gives you an overall view of your deal and pipeline figures in your CRM, while still being able to seamlessly integrate with more advanced transaction management-focused tools.
More deal improvements on the way
There are a lot more deal improvements we're adding down the road, including updates planned for our iPhone and Android apps. We posted a few ideas to our product roadmap that you can view below:
If any of those stand out as features you'd like to see in Follow Up Boss, please let us know by upvoting them. Have your own ideas on how we can make deals even better? Tell us about it on our roadmap!
For overviews on adding and managing deals on desktop and in our mobile apps, check out our guides below: