We released two updates that keep your Follow Up Boss data even more secure:
1. Now you can create multiple API keys for your Follow Up Boss account. This lets you create a unique API key for each third-party app you connect to Follow Up Boss, which gives you more control over the apps that have access to your data.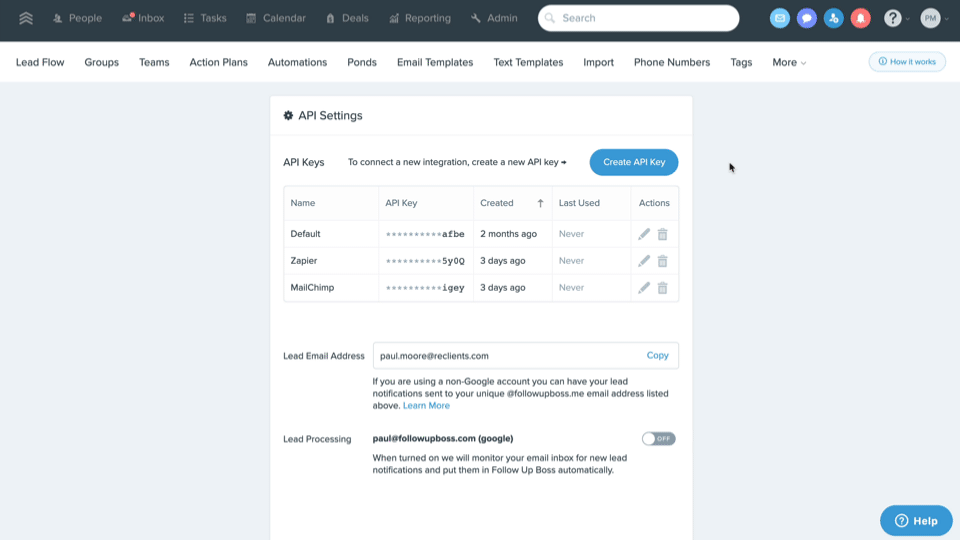 With this update, you can delete individual API keys if you stop using specific apps, which lets you revoke access to apps you've connected in the past, without needing to disconnect and reconnect every integrated service. The new "Last Used" column next to each API key shows you which integrated app used it recently, and when the app last accessed it.
Another improvement to the API Settings page: Now you'll see each API key only once, right after you create it, which is the best practice for security. You can copy a new API key from the API Settings page right after creating it, and then paste it into the integration you are connecting. If you forget to copy an API key, you can simply create a new key and delete the unused one.
You can learn more about how the new API Settings page works here.
2. We released a new content security policy that tells internet browsers which third-party services Follow Up Boss approves to be loaded in the web app. Follow Up Boss allows several third-party services – for example, Google Maps for the property report, a tool called Productboard for the Roadmap and Wistia for in-app help videos.
By enforcing a content security policy, we explicitly tell your internet browser which of these services Follow Up Boss allows, so the browser can block everything else and keep your data more secure.